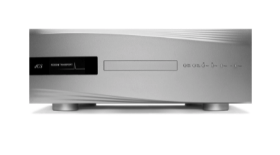 dCS Rossini CD/SACD Transport
Utilises the latest generation dCS Digital Processing Platform for state-of-the-art measured performance and unrivalled musical experience.
Plays Red Book CDs in their native 16/44.1 format AND upsamples the data to either DSD, DSDx2 or DXD.
Plays SACDs in their native DSD format AND downsamples the data to 16/44.1 format.
Configuration Menu – Ability to save/ restore settings, and EasyPlay improves ease-of-use.
Improved power supplies give lower running temperature and superior tolerance to AC supply variations.
Multi-stage power regulation ensures sensitive clock / PLL circuitry is unaffected by digital interference.
Aerospace-grade machined aluminium chassis fitted with tuned acoustic damping panels reduces magnetic effects and vibration.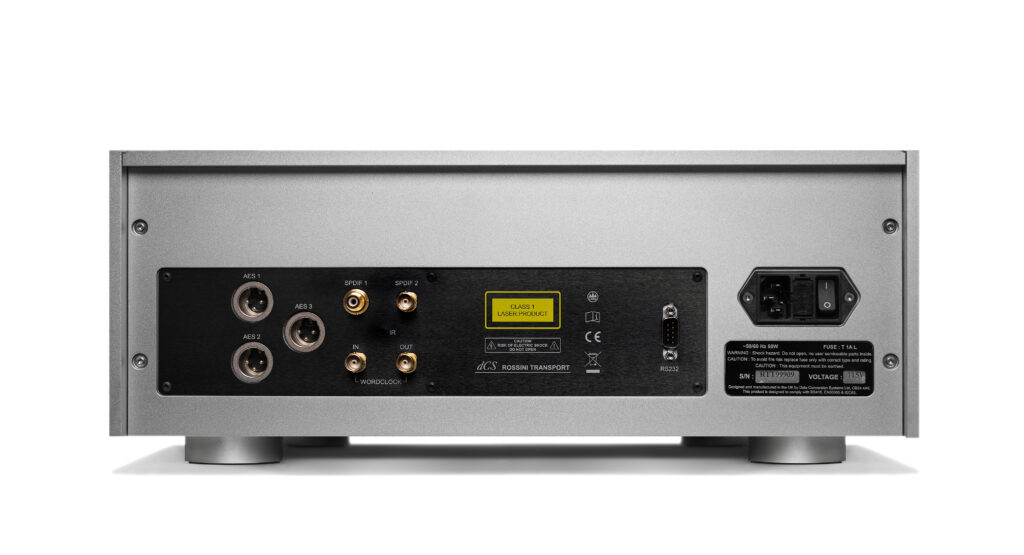 | | |
| --- | --- |
| Type | Upsampling CD/SACD Transport |
| Colour | Silver or Black |
| Mechanism | Dual laser CD/SACD mechanism |
| Dimensions | 444mm (17.5") long x 435mm (17.2") deep x 178mm (7.0") high. Allow extra depth for cable connectors. Allow space for air flow around the unit |
| Weight | 20.6kg (45.3lbs) |
| Digital Outputs | 1 x Dual AES Pair on 2 x 3-pin male XLR connectors (AES1+2). While an SACD is playing, the interface outputs encrypted DSD data. While a CD is playing, the Settings > Upsample Mode menu page sets the interface to output either encrypted DSD data (1 bit at 2.822MS/s) or DXD data (24 bits at 352.8kS/s) or DSDx2 data (1 bit at 5.644MS/s); 1 x AES interface on 3-pin male XLR connector (AES3). Outputs 16/44.1 data, whether a CD or SACD is playing. 2 x SPDIF interface on 1 x RCA Phono and 1 x BNC connectors. Each outputs 16/44.1 data, whether a CD or SACD is playing |
| Wordclock I/O | 1 x Word Clock Input on BNC connector, accept standard Word Clock at 44.1, 88.2 or 176.4kHz. Sensitive to TTL levels. Lock range is +/-300ppm. 1 x Word Clock Output on 1x BNC connector. With the Transport in Master mode, a TTL-compatible Word Clock is output |
| Clock Accuracy | The calibration accuracy when shipped is +/-10ppm, (not temperature compensated) |
| Software Updates | Updates are loaded directly from CD-R |
| Local Control | dCS Universal Remote (not supplied with Rossini Transport as standard. Via the Rossini app, RS232 app or a third party device) |
| Power Supply | Factory set to either 100, 115/120, 220 or 230/240V AC, 50/60Hz |
| Power Consumption | 16W typical / 50W maximum. Consumes less than 0.5W when powered down from the front panel |